I was looking through our wedding album a few days ago. In the pictures, Tim and I both look so overjoyed and radiant. This was one of the first kisses we shared as husband and wife (while my ovaries did a happy dance)....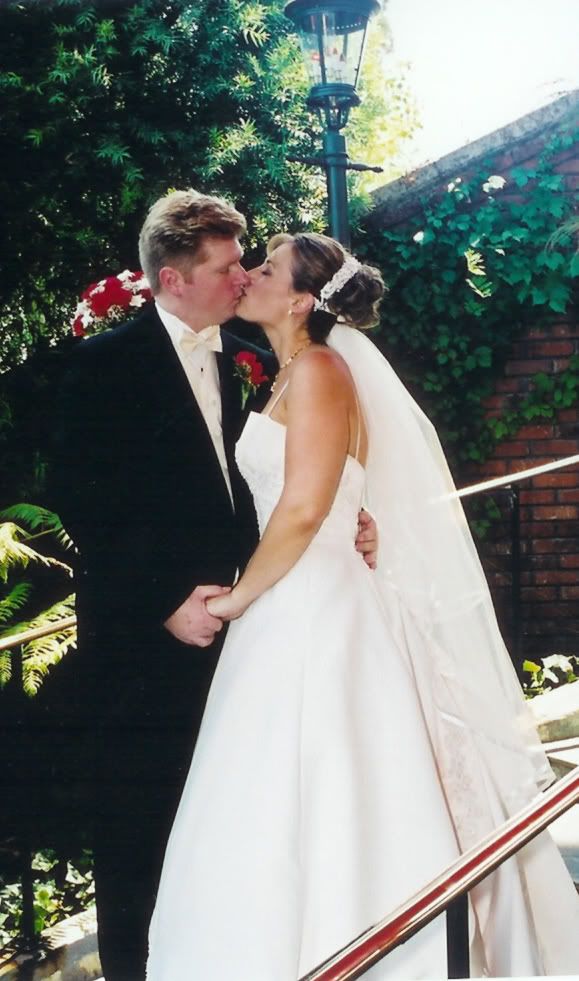 What happened to us?? Oh yeah, now I remember.....
While we are thrilled to be parents to these 4 awesome kids, our relationship has suffered somewhat....through all the sleepless nights, ER visits on a Sunday afternoon, and just the basic chaos and stress that is our everyday life.
Lately, it's occurred to me that Tim and I need to reconnect. Sometimes it feels more like we're old friends, rather than husband and wife. I miss the passion that we used to have....I miss the laughter. I really just miss the "old" us.
So how do you know when you and your husband desperately need to get reacquainted with one another? Read on....
1) You run into each other at the local Starbucks and when he sees you across the crowded room, he has a confused look on his face like, "Don't I know you from somewhere? You look really familiar".
2) You answer the phone and hear, "Hey honey, it's me..." and you cut him off with, "Uh, I think you have the wrong number..."
3) Trying to spice things up in the bedroom, you spritz your body with whipped cream. He takes one look at you and says, "Did you forget that I'm lactose intolerant?"
4) He often ends his sentences with "....I already told you why, Mom...I mean, sweetie"
5) Trying to be sexy, you e-mail him a picture of your boobs and when he comes home, he says, "You wouldn't believe the e-mail I got today!! Some chick sent me a picture of her boobs!" You roll your eyes and say, "You jerk, that was me...trying to be spontaneous and sexy" and he quietly responds, "Oh....why did I think your boobs were bigger than that?"
6) When filling out some medical paperwork, he asks you, "Are you 39 or 40 years old? I can't remember"
7) He leaves a "love note" in your purse and then acts disappointed that you've never mentioned it. You apologize and say, "I'm sorry but I haven't used that purse in ages". He says, "Since when don't you carry a purse?" and you reply, "Uh, since graduating to parenthood when the diaper bag replaced my purse".
8) While having a conversation one day, you notice he looks bewildered. You ask, "What??" and he says, "Have you always had dimples when you smile?"
9) When you run into an old friend at the store, you introduce him as your roommate.....by accident, of course.
10) You're not "friends" with one another on Facebook. Yet you're "friends" with all 3 of your childhood girlfriends whom you haven't seen in at least 25 years.
If this sounds like you and your spouse, it may be a good idea to schedule a date night....ASAP. I know I am....
Memorable conversation of the day:
Cole: (crying) Mommy, Bella jumped on me
Me: Bella, did you jump on him?
Bella: NO, he's lying. I only jumped on half of him.