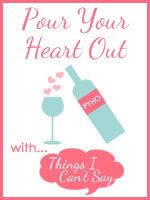 It's time to pour my heart out again...with Shell at
Things I Can't Say
.
Why are some women so afraid to talk openly about their experience with post-partum depression?
It saddens me that people can talk freely about their political opinions or sexual preferences, yet some women still feel nothing but shame and embarrassment when it comes to admitting they suffer (or have suffered) from PPD.
Because I'm an open book (or maybe it's just that I have no shame), I want to share a little more now than I have in previous posts on the subject.
And as a forewarning, this is going to be a brutally honest and graphic post so if you find the subject matter disturbing, please don't read any further.
My experience with PPD was devastating and debilitating. I suffered from it after I had Cole and Bella, though I didn't realize that's exactly what it was until after I had Garrett and Landon.
The depression hit me like a ton of bricks 7 months after the 2nd set of twins were born. Yes, SEVEN months later.
People usually think PPD takes hold of you almost immediately. It doesn't...it can capture you and hold you hostage within the first 12 months after giving birth.
And that's exactly what it feels like...as if you're a prisoner in your own body.
It's isolating, frustrating and downright scary...and that's putting it mildly.
With Cole and Bella, I was on auto-pilot the first few months after their birth. Survival mode at its best. I didn't have the choice to just lay in bed in the dark...I had 2 babies depending on me, needing me to keep it together for their sake.
I remember specifically when I started to suffer from intrusive thoughts, after having our 1st set of twins. I put them in the double stroller and took them for a long walk. After having been up with them most of the night, I needed some fresh air.
Along my route, we passed a lake and a horrible thought quickly entered my mind....what if I just let the stroller roll into the water? Would I jump in afterwards to rescue my babies or would I hide behind a bush and watch the stroller submerge?
In my head, I could imagine hearing their screams of fear, as they would sink deeper into the water. Would the water be cold? Would they die quickly or would they suffer?
It was extremely disturbing and I was mortified that such a thought had entered my mind. I knew I would never actually do such a thing but where did that thought come from?
I had wanted children so desperately, having gone through 3 rounds of IVF to finally conceive these children. And here I was, imagining their death...imagining MYSELF as the one who was responsible for causing their death.
I never mentioned those frightening thoughts to anyone and I avoided taking that path by the lake in the future when I would take Cole and Bella on walks.
Unfortunately, avoiding the lake didn't stop the distressing thoughts from plagueing my mind.
On another day I had taken them for a walk and as I pushed them along I noticed most of the cars were passing us at breakneck speed. I envisioned myself pushing their stroller into the way of an oncoming car.
Again, the entire incident played out in my head. Would I just stand there and watch? Or would I run into the street after them, putting my own life in jeopardy to save my babies? How far would their stroller be thrown into the air?
I could picture their battered, lifeless bodies on the concrete.
From that point on, I tried not to leave the house....too scared that another intrusive thought would enter my mind.
I struggled on a daily basis to conquer the demons that threatened to devour me. Within time, I was able to control the thoughts to the point where they became far and few between.
However, after the birth of our 2nd twins, PPD gripped me once again and it was so much worse than before.
Instead of suffering from intrusive thoughts at random times, I began having the upsetting thoughts all the time.
When giving the babies a bath in the kitchen sink, I'd see the garbage disposal switch out of the corner of my eye and visualize turning it on, watching their tiny limbs being chopped into a thousand bloody pieces.
I imagined myself tossing them over the balcony of the stairs that led to their bedroom. At night when they would cry, I could easily see myself smothering them with a pillow.
Often times, I'd lock myself in my bedroom and cry right along with them, wondering what the hell was wrong with me.
It wasn't only the intrusive thoughts that were alarming. I walked around in an angry rage all day long....yelling and screaming over the most unimportant things, such as Tim not replacing the toilet paper in the bathroom.
I thought about killing myself at least 3 times a day, googling which way would be the quickest, yet least painful while dreams of packing my bags and running away often consumed me.
At this time, I also began suffering from panic attacks, which would literally seize me in my tracks. My brain was in a constant state of alert...always working, always thinking, always planning.
I couldn't sleep, couldn't eat...I don't even know how I managed to function most of the time. Every move I made was forced and mechanical, completely void of emotion.
Making feeble attempts in seeking help, I would say to Tim, "I can't do this anymore. I just wish I could completely vanish into thin air".
And he would say, "You just need to get more sleep".
Once, I told him, "We should put the babies in foster care. I'm a horrible mother. I don't deserve them. They deserve a mother who loves them and can protect them".
Surprised, he had asked, "You want to put the kids up for adoption!?" and I'd say, matter-of-factly, "Yes, I do".
The look in his eyes was one of utter confusion and anger. Eventually, he would become resentful and bitter.
He didn't understand it...he didn't know where all this was coming from. The scary thing was, neither did I. Even though I suspected it might be PPD, I still didn't want to admit it to anyone, least of all myself.
This continued for awhile....I wrestled with the intrusive thoughts, even though I knew I didn't have it in me to act on them. That was my one saving grace, the fact that, deep inside, I was still a rational person.
In terms of the panic attacks, I tried to convince myself that I wasn't trapped and that I could leave at any time. I kept a suitcase full of clothes and essentials in the garage so I could take flight, if need be.
I struggled through every minute, every hour of the day to not feel any pain. After each long, exhausting day, I would retire to my bedroom, where I wished I could vanish into a puff of smoke and simply not exist anymore.
Wasn't a mother supposed to love and protect her children, cherish and enjoy every single minute of motherhood? Why didn't I feel that way? How had I turned into a such an ugly monster?
My breakthrough happened on November 9, 2007. My plan was to leave and never come back.
That morning, I completely broken down after Garrett had screamed and cried endlessly for 2 whole hours in the morning. My nerves were frayed and I couldn't think straight. I began yelling at him, "Shut up, just shut up....I can't listen to you scream anymore".
But the more I yelled, the more he cried. I failed to notice that his distress was a direct result of how I was reacting to him. Instead of comforting and reassuring him, as a mother should, I became more irritable and upset.
I laid him on the changing table and he continued to cry. In my disconnected mind, I interpreted his agitation as if he were saying, "You're a terrible mother. You don't deserve to have children".
Placing my hand over his mouth, I looked down at him and screamed, "Shut up...please shut up! I cannot do this anymore! I could smother you right now...just shut the hell up!"
Upon hearing this, Tim flew down the stairs in an instant and yelled at me, "Leave...just get out, right now!"
I screamed back, "Fine! I'm all packed and ready to go. And I'm never coming back. Fuck you!"
I threw my suitcase into the car, drove straight to the bank and withdrew $500 from my own personal savings account.
And then I sat in the car and sobbed for what seemed like an eternity....
In the end, I did reach out for help. Finally. I had to.
I was sinking quickly and feared going under so deeply that I may never find my way back. I hated what I had become and didn't want my children to grow up scared of me.
They deserved a childhood filled with happiness, laughter and joy, not anger, resentment and sadness. And I didn't want my husband to hate me for the rest of his life.
I admitted to myself that I couldn't do it anymore on my own. These feelings weren't going away, no matter what I did.
After getting in touch with my former therapist and attending weekly sessions with him, I began to feel the old "me" shining through again. I also started taking an anti-depressant, which took awhile to kick in, but when it did, I felt the results with a huge relief.
Finally, it didn't hurt to be alive every minute of the day and I could hug my children and hold them tight without the fear of harming them.
Soon, the good days outweighed the bad days. It certainly wasn't overnight and I did have some setbacks here and there, which were frightening but, with the therapy and anti-depressant, I was able to overcome the PPD.
Thankfully, I found my way back again.