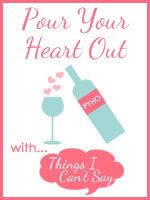 I don't want to be her, even as my mouth opens and my ears hear her words, her anger, her bitterness pour out.
I want to radiate nothing but positive energy, always seeing the best in people...not the worst, like she does.
I want my life to be about helping others and making a difference...not spending every minute of the day being some innocent person's emotional vampire, like she is.
I want to smile so brightly that my heart can't help but beat in double time...not walk around with a painful scowl on my face, so miserable that it's written all over my face, like hers.
I long for people to want to be around me...not avoid me because all I do is put a damper on every situation, like she does.
I want to be compassionate, caring, selfless...not making everything about me, like she does.
I want to love my children so deeply that I can feel it within the depths of my soul...without having to convince myself that I am supposed to love my kids because that's how a mother should feel, like she does.
It's a constant daily struggle...because sometimes I fear it's in my blood to be just like her.
I don't know anything other than this life. It's not ingrained in me the way it is for others.
It doesn't come naturally. Love isn't an automatic, as some may think. Every single day, I have to wake up and make the conscious decision to be different...to be the exact opposite of her.
And I am forever haunted by the reality of it...it's too distressing.
So I will continue to fight tooth and nail every moment of the day to ensure it doesn't happen.
I don't want to be her.