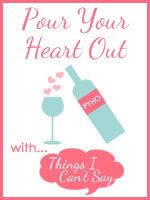 April 22. It will always stay with me.
The estimated due date of a baby who should have been...but never was.
This child would've been 7 years old now. He? She? I'll never know.
Back then, the pain was crushing, the grief unbearable. It felt as if I would never heal completely.
"It gets easier," the nurse explained. "Someday, it won't hurt as much." And I half-heartedly believed her.
Silent grief, they called it.
Why, I asked?
Because no one likes to talk openly about pregnancy loss. You deal with it privately because you don't want anyone to feel uncomfortable...or worse, pity you.
You keep it to yourself simply to avoid the well-intentioned loved ones who say, "This baby just wasn't meant to be" and "Everything happens for a reason".
All you know is that there will never be a 1st birthday celebration for this child, no contagious belly laughs that would make you smile from the inside out...there will be no cherished hugs, no sweet, sloppy kisses, no whispered "I love you's".
It feels like a punishment for a crime you didn't commit...a life sentence of sorrow, uncertainty and bitterness.
However, there are some things you will always have that no one can take away from you...the memorable dates.
The day you found out you were pregnant, the first ultrasound when you laid eyes upon the little bean for the first time...and the estimated due date of when that tiny, precious gift would've been delivered safely into your loving arms.
It's true...time does heal all wounds.
But time does not erase memories, as painful as they were at one time.
No matter how much your life has changed since the loss....
And no matter how many children have been born to you since then...even realizing that those same children wouldn't be here if the bereaved child had lived...you will always remember.
And wonder.
What might have been.