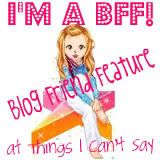 Hey, people...guess what? Shell at
Things I Can't Say
asked me to be her
BFF
this week!! To say I was over-the-moon excited is seriously downplaying it!
Each week, Shell hosts a meme called "
Blog Friend Feature
", where she features various bloggers who share a little about themselves or whatever's on their mind. I've discovered many new favorites through this weekly feature!
Shell also hosts another popular meme called "
Pour Your Heart Out
" every Wednesday, where bloggers are invited to
pour their hearts out
. I love this meme in particular because it's such an amazing outlet for bloggers who may want to share something deep and personal without being judged or disrespected.
Personally speaking, my PYHO posts are quite therapeutic for me, as I often dive deep into topics I wouldn't be comfortable sharing otherwise. Yes, I have a serious side...who knew?
It would totally make my day if you'd head over to Shell's and read my
BFF guest post
, where I confess to being more of a "Things I Shouldn't Say" kind of person. I heard a nasty rumor that, technically, SAHM's aren't supposed to break out the chilled wine until 5:01 pm so I'll need something to put a smile on my face since, trust me, by this point in time, the spawn have already been whining about this and that, fighting with one another and driving me freakin' batty.
Good God, there are some days where sticking my head in the microwave would be less painful than listening to them whine and fight with one another.
While you're at Shell's, if you're not already a loyal follower of hers (which would shock me because she has quite a huge fan base!), be sure to click that follow button on her right sidebar. I promise you will not be disappointed!