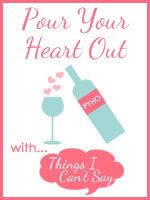 I couldn't help but fear the worst. This marriage is beyond hopeless, I thought to myself.
Was our marriage truly irreparable? Had I done enough to try to save it? Could I really walk away completely guilt free, knowing my children's security and happiness were at stake?
Those questions plagued my thoughts every single night as I tossed and turned in my bed.
I tried with all my might to remember why I fell in love with Tim 16 years ago, aching to recapture the once fierce beating of my heart at the mere sound of his voice. Missing the rousing feeling of butterflies deep inside my core at the very thought of being in his company.
Now, we were just two people living in the same home...raising our children together, desperately trying to keep our sanity in tact. Survival mode, at its best.
When was the last time he heard me say "I love you", I pondered. Had he wondered if I meant it? Did I mean it? Or had those words rolled off my tongue as easily as, "Take out the trash, please"?
I wanted our marriage to be easy...effortless. I wished we could read each other's minds, never having to guess at what the other wants or needs. Never having to ask for anything at all...simple connecting on all levels, all the time.
Instead of coming right out and telling him my concerns and fears, I took the passive/aggressive route...making him watch movies like "Hall Pass" with me and then grilling him afterwards.
"What would you do if you had a week off from our marriage?" I asked.
He shrugged his shoulders and responded, "I don't know, sweetie. I wouldn't do anything."
Suspicious, I continued, "What do you mean? You wouldn't take advantage of a FREE week off...you could have sex with any woman you wanted!"
"It just wouldn't be worth it to me. Why would I want to be with another woman?" he stated, obviously growing more and more uncomfortable with the topic at hand.
"So you're saying that you're 100% content with me...completely happy? You have no desire to score with the first woman who offers herself to you, even if there were no chance in hell that I would ever find out?"
Nothing but silence on his end. Except a sigh. A long, exhausted sigh.
From there, we retreated to our separate spots. He in the family room, me in our bedroom upstairs.
When was the last time we had spent any time alone, where we could really focus on one another without being interrupted by a child who needed immediate attention?
I honestly couldn't remember. That's what we needed, I convinced myself. We need a few days alone together, where we can just relax and have fun...away from the kids, away from his work, away from the hustle and bustle which had consumed us.
So away we went, after a good friend agreed to watch the kids. As hard as it was to be away from them, I knew our marriage needed this....it depended on it.
After turning the radio off, we talked the entire drive up to the lake. And then it came out....
He quietly asked, "Do you even love me anymore? Sometimes I don't even think you like me."
There it was. His concerns, his fears, his beliefs...in plain sight.
The door had been opened and it was finally time for us to each put it out there and deal with the monster rearing its ugly head.
Were we going to fight for this marriage? Or were we going to call it a day and make arrangements to separate?
Over the course of the next couple days, we talked...we laughed....we reminisced.
Clearly, there was still a foundation to build on, even though that same foundation had become warped and wobbly years ago.
More importantly, we enjoyed each other's company. Before we were were parents, before we were husband and wife, we were friends. And we still are...the best of friends.
A broken marriage? Yes, perhaps it was.
But like anything worth saving, it needed to be nurtured and rejuvenated, as we breathed new life into our relationship.
It's a constant work in progress, I now understand. One that has to be constantly regarded and acknowledged in order to function properly.
So, we move forward, on the same page. Happily and willingly.
"Love doesn't just sit there, like a stone; it has to be made, like bread, remade all the time, made new"
--Ursula Le Guin