Shell at
Things I Can't Say
is hosting yet another fun meme called Rockin' The Baby, which I couldn't resist linking up to since I'm such a sucker for baby pics.
It cuts through all my sarcasm and makes me sappy and sentimental.
Some of my favorite pics of Cole....
His big blue eyes made my heart melt...
If this isn't a total "Oh crap, I'm busted" look, I don't know what is....
And then there's Bella...my little Peanut, with pinchable rolls that could go on forever
In this next pic, she had just gone down the slide at the park for the very first time...
Love this pic of her and Tim at the pumpkin patch, dissecting a sunflower...
Then there's Garrett and Landon...those smiles made the sleepless nights so worth it!
Don't you just want to squeeze Garrett in all his Christmas cuteness this next picture??
And Landon...so adorable. Sigh...
This is what every exhausted mother dreams of seeing in the morning...two happy, smiley babies awaiting her and ready to start the day.
Have some cute pics you want to link up? Join the fun...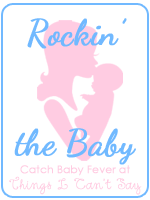 Also, if you're a coupon lover like I am, check out my newest blog sponsor,
Amazon Coupons
!!