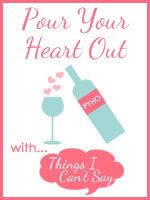 My kids go back to school today and I'm beyond thrilled.
Whew, I said it. The cat's out of the bag.
You see, all summer long I've encountered various moms here and there who have said to me, "Can you believe how quickly this summer is passing us by? It makes me sad to think of my kids going back to school."
Sad?! Are you freakin' kidding me?
The only thing I'm sad about is the lazy days of summer being a thing of the past. No more sleeping in, no more staying in our jammies until 12:00 noon, no more lounging around without a schedule.
So, yeah..."sad" isn't exactly the word I'd use to describe how I'm feeling.
Delighted....elated....happy....excited.
That's how I'd describe myself today.
And while some moms may spend their evening before the first day of school prepping everything for the next morning to go smoothly, I'm spending my time in prayer.
I'm praying that my kids don't cry when I drop them off because then it'll cut into MY free time. I know I'll constantly be checking my watch as I'm wiping snot off their faces, thinking, "Dammit, now I only have 2 hours and 27 minutes to myself!"
Yes, I really did put that out there. Why not? This is me pouring my heart out.
I'm praying that they have a great day so I don't have to feel guilty about not feeling guilty.
Wait, did that make sense? Ugh, who cares.
I'm praying that the time goes by slower than molasses. Because I'll actually have the time to watch the molasses drip ever-so-leisurely out of the bottle.
I'm praying that I don't appear to the teachers and the other parents as too eager to be relieved of my childcare responsibilities as I dash out the door, with my minivan leaving skid marks in the parking lot.
I'm praying I don't get a phone call at any point during the morning from a disgruntled preschool teacher saying, "Can you come pick up your child from school? He didn't make it the bathroom in time and there's poop everywhere!"
I'm praying when I pick them all up from school, they greet me with smiles and happy reports of their day....rather than frowns and a "school totally sucks" attitude.
Don't get me wrong...I mean, I love my kids. Like, REALLY love my kids with every ounce of my being.
But I'm done. They have all but worn me out completely. This summer exhausted the hell out of me.
We had fun...lots of it, too. Swimming at the pool almost every day, going on vacations, taking friends to the amusement park, hanging out at various playgrounds. We did it all....and then some.
I need my space. I need to rejuvenate. I need to hear my own thoughts, people.
And I can't apologize for how I feel.
I am THAT mom...the one who cannot wait for the first day of school so she can have some time to herself again, even if it is only for a measly 3 hours each day. While Cole and Bella do attend school all day, Garrett and Landon only go to preschool for that 3 hours.
It's better than nothing and I'll happily take what I can get.
Also, because I know that at approximately 3:00 pm every day, that's when the shit hits the fan. We're talking endless whining about not wanting to do homework, driving them all over God's creation to and from drawing class, soccer practice, dance class, Tim texting me from work with, "Sorry, sweetie, I'll be home late"....the chaos never ends.
I need my "me time" and I'm not ashamed to admit it.
The taste of freedom....it's good, people. Real good.
Now, if you'll excuse me, I'm gonna go run around the house naked.
Because I can.