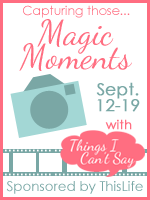 Shell at
Things I Can't Say
is hosting another fun meme where she's asking her readers to share some of their magic moments caught on film.
Here are a few of the magic moments that we captured to be treasured for a lifetime....
The first beginning moments of motherhood. Tim took this picture of me smiling at my firstborn, Cole, who was immediately whisked away to the NICU after it was taken.
I didn't see Cole for the next 24 hours so this picture was priceless to me, as I was able to view it often while I counted down the hours until I could be reunited with him.
Our very first family portrait. It wasn't professionally taken, obviously. But one of the nurses in the NICU happened to walk by us as we were marveling over our precious babies.
She quickly grabbed our camera and said, "Your first family picture...this is definitely something you want to remember!"
Garrett and Landon's first Halloween. I just love this picture...still makes me laugh so hard to the point where I cry.
Totally love this picture of all 4 of my babies. It was so rare to get a good picture of all of them together so this was a classic for sure.
This pic of Garrett and Landon sitting in the front of the television watching a Baby Einstein DVD always makes me smile.
They just look so incredibly tiny in this huge room. There were a million toys to play with but the minute one of the Einstein DVD's would come on, it captivated every ounce of their attention and they'd sit there for the entire video, right next to one another.
This was our first Christmas as a family of 6. It's not the happiest picture of all the kids that my friend Bonnie took that day but it's the one that captured all the right emotions of that moment...2 kids completely wiped out and grumpy, 1 kid totally slap-happy and giggly and another child who was bordering a major tantrum.
Merry Freakin' Christmas.