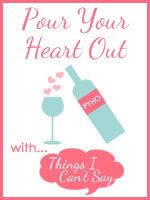 Mean girls. That's what we're dealing with over here.
If there is a positive side to this, it is that Bella doesn't realize that these girls are "mean" as of yet. She can still see the good in people, no matter what they do.
But I see it as crystal clear as any other adult who has had her fair share of dealings with mean girls.
Tonight, as I was rubbing Bella's back as she fell asleep, she whispered, "Mommy, Macie said I can't talk to her at lunch anymore because we're not in the same class this year".
She continued, "She said I can sit next to her but I can't talk to her."
I asked, "What did you say?"
"I didn't talk to her. I just ate my lunch," she explained.
"Bella", I began. "No one can tell you what you should or shouldn't do. There is no rule saying you can't talk to someone who isn't in your class. In fact, lunch time is the ONE time the entire 2nd grade is together so lunch is a great time to catch up with those friends who aren't in your class."
Before responding, she seemed to take in what I had just said to her.
"But she said we can't talk anymore," Bella argued with me.
"Listen, you can still be friends with someone who is not in your class. Friendships are not dictated by rules like that. A true friend is your friend through thick and thin, whether you sit next to each other in class or you're separated by 3000 miles. Why would you want to be friends with someone who's continually changing the rules on you and treating you so badly?" I said.
"Your worth more than that, aren't you?" I asked her, as tears stung my eyes.
She sat up and held my hand gently.
"Mommy, you know Cameron? She doesn't have any friends. There's this small group of girls who hang out because they sing together and they don't like her," she stated.
Upon hearing this, my heart broke for Cameron because, while I don't know her very well, she seems like such a sweet girl.
"Well," I said. "Maybe you should ask Cameron if you can sit with her at lunch tomorrow. It sounds like she could use a good friend, don't you think?"
She answered, "Yeah, she probably does need a friend. But I don't understand why the group doesn't like her. We're all in the same grade. It doesn't make any sense."
I sighed in frustration and sadness, knowing that this 2nd grade school year is just the beginning of her encounter with mean girls.
"Bella, you're going to find in life that some people have good hearts and they will accept you no matter what. Those are the people you want to be friends with. Those are the friends who will be loyal to the end."
I continued, "However, the people with mean hearts, the ones who put strict terms on friendship and hang out in small groups who exclude others for no good reason...well, those are the people who are not worth your time or attention. Do you understand what I'm saying?"
Bella nodded her head, "Yes, I think so. I just wish friendships weren't so hard sometimes."
"Me, too, Peanut...me too," I agreed.
Did I say the right thing? Will she remember my words the next time she has a run in with a mean girl? How do I stop myself from driving over to the school and kicking those little girls' asses all over the playground?
I certainly don't have all the answers and I feel like every word out of my mouth must be chosen cautiously.
Have you had to have a similar conversation with your children about how to deal with mean kids? I'd love to hear how you handled the situation.