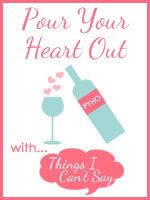 "I think I've fallen in love with you," he confessed to me one day at lunch. "I can't imagine what my life will be like without you in it."
He was my employer, a married man with 3 young boys and a wife I was fond of...and I was a naive 27-year old.
I sat across from him in disbelief, though I don't know why the acknowledgment of his feelings took me by surprise. Deep down, I suspected he had felt this way for awhile and was just waiting for the right moment to tell me.
I babysat his children on occasion, he and his wife had strongly encouraged me to go to graduate school, he let me cry on his shoulder when I found out my first husband was cheating on me, he held my hand and told me I was strong enough to leave my marriage because I deserved someone who cherished me, he witnessed my reckless behavior during my divorce and called me on it.
He was my friend. He also happened to be the rabbi of a large congregation. In their eyes, he was a trusted teacher, a family man...above all, a religious leader.
I'm not sure exactly when his feelings for me developed or what exactly he expected me to do with this information once he shared it.
"Why are you telling me this?" I demanded. "I have a boyfriend...my God, I'm young enough to be your daughter. I adore your boys, your wife is amazing. You're moving to Canada in a couple months...why are you doing this?"
He didn't answer for a few minutes, perhaps stunned by my reaction. The silence between us was almost deafening. I kept my eyes focused downward on my half-eaten salad, which I was now pushing around my plate with my fork.
I considered grabbing my purse and leaving the restaurant but then quickly remembered we had driven together in his car.
As my mind contemplated what to say next, he finally answered, "I don't know what I expected. I guess I just wanted you to know. If you feel the same way, I won't move. I'll stay. Or you can come to Canada. All I know is that I can't imagine my life without you in it."
I leaned in closer to him, not so much to be in closer proximity to him but more out of a desperate need to keep the conversation between us as much as possible. He was well known in the community and the thought of running into someone from the temple who might overhear our discussion made me want to vomit.
"What?! Are you kidding me? What about your wife? Your boys? Don't they matter? Why would you risk everything? What would you even tell them?" I asked.
Before he could answer, I continued, "I don't feel the same way. You have to know that. You are a friend to me. Nothing more. Someone I thought I could trust, someone I enjoy spending time with but that's it. And all this time, you were falling in love with me?"
I couldn't help but wonder if I had led him on during our friendship.
At the office, we were nothing but professional, although there were times he would lean in a little too close for my liking as we went over things he needed me to do or I would catch him watching me but I never said anything.
Outside the office, we would sometimes enjoy lunch together or chat at his house upon his return after babysitting his children.
Had I ever said anything which would lead him to believe I felt more for him? Did he think every time I smiled at him from across the room that there was more to it than just a friendly gesture? If I had kept things on a professional level and never entered into a friendship with him, would we even be having this discussion?
"I didn't expect this to happen," he explained. "It just did. I'm saddened that you don't feel the same way but I understand."
I gazed into his face and the sadness was evident in his eyes. I imagined his wife giving him that same look as he disclosed to her that he was in love with someone else.
"And just so you know, even if I did feel the same way, there's no way in hell I would ever enter into a relationship with a married man. For God's sake, my marriage ended because my husband cheated on me! You know that! How could you even think this was okay?"
I partially wondered if I was chastising him to make him feel guilty or for the sake of convincing myself that he was the bad guy here, not me. I hadn't done anything wrong...or had I?
It was then that I realized that while I knew whole-heartedly that I was not in love with him, I did get excited when I would drive into the parking lot each morning and see his car already there. I would often greet him with, "I'm so happy you're here today." When he would tell me how pretty I looked on a particular day, I'd smile politely and blush.
It brought me back to that age-old question...can people of the opposite sex be just friends or will it inevitably lead to one or both people having stronger feelings? Will someone end up hurt or misconstruing the friendship for more than what it really is?
Things were never really the same between us after that. I tried to avoid him as much as possible, while he acted like the conversation had never occurred.
He decided to leave the congregation after all and follow through on his move to Canada with his family. I received a letter from him a few weeks later.
"I know you would love it here. The city is so beautiful and I while I walk around here taking it all in, I can't help but think of you and miss you," he had written.
I never wrote back. He never tried to contact me again and I was relieved.
While it did occur to me that this could be a case of sexual harassment, I never reported it to the board at the temple. However, I did spend a great amount of time wondering if I should have told someone. But then would I be dragged through the mud...with no one believing me, especially now that he was gone? Even if I showed them the letter as proof, would they think it was my fault somehow?
It continued to bother me for months afterward. Within time, I was able to let it go.
Did I truly believe it was my fault? In my heart of hearts, I knew I did nothing wrong. I wanted nothing more than friendship but, then again, I wasn't exactly clear on my expectations...didn't think I needed to be.
And perhaps I should've never entered into a friendship with him based on the fact that he was my employer. That, alone, was obviously something I was guilty of.
Suffice it to say that this was yet another life lesson for me. Certainly not the first lesson and definitely not the last one...not by a long shot.