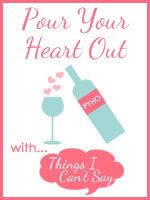 I can still recall the exact moment where I thought, "Oh shit, what did we just do?!"
Tim and I were driving back to our hotel room after the embryo transfer for our 3rd IVF and my RE's words were still ringing in my ears, "I would strongly advise you against transferring this many embryos."
However, like many infertile couples, Tim and I were desperate. This cycle HAD to work because we were financially, emotionally and physically exhausted.
When we decided to move forward with what we hoped would be our last IVF, I cried to Tim, "We have to go for broke this time and do everything in our power to make sure this cycle is successful. I honestly don't think I can go through this even just one more time."
"Everything in my power" meant subjecting myself to acupuncture, following a Traditional Chinese Medicine diet which meant drinking lots of horrid black tea and other warm foods in order to heal my spleen xi deficiency or some shit like that, trying my best to focus on a positive mind-body-spirit connection even when I wanted to scream at God, and going through a painful oreo withdrawal because a friend had warned me that there was something in the creamy center that could cause a miscarriage....and so forth and so on.
Conquering infertility was a full-time job.
I spent hours online researching all the possibilities of why an IVF cycle might fail and then I would shoot off an e-mail to my RE asking all kinds of crazy crap like, "If I drive over a pothole after my transfer, is it possible for the embryos to detach from my uterine wall?"
His nurse would often e-mail me back, "Helene, my sweets...while you are very funny, you are not that powerful. Not even the wildest roller coaster ride could cause an embryo to detach. Relax, everything will be fine."
Relax? I don't think so. Not when we had so much riding on this cycle. It had to work.
So when the discussion came up over dinner a couple nights before our transfer, I told Tim, "I really think we should transfer as many embryos as we can. I'd love to transfer four. What do you think?"
He had nodded his head in agreement. "I think we have to be aggressive this time, just like you do. But aren't you scared. We can't have quadruplets. Or even triplets. I don't think we could handle it."
"Sure, we could. People do it all the time. Yeah it would suck for a little while in the beginning but we'd find our groove. We can do this," I assured him.
"Well, let's wait and see what Dr. Sher thinks," he advised.
"Uh-uh, no way. I already know he's going to recommend putting only 1 or 2 embryos back in. The nurses all told me he's very conservative because of the fear of high-order multiples. But dude isn't the desperate infertile one...WE are."
After a phone call with one of the nurses and hearing her out as she explained that all the embryos were such excellent quality, that we were going to have an extremely difficult time convincing Dr. Sher to agree to transfer 4 embryos, Tim and I ultimately decided on 3.
The day that we had waited for finally arrived. The day where we would put all our eggs (pun intended) in one basket and deal with the aftermath later.
After listening to Dr. Sher's explanation on why he felt strongly that transferring only 2 embryos was the wisest, most sane decision, I begged him to let us transfer 3 instead.
With tears in my eyes, I pleaded, "I know you think our decision is reckless. And I realize it can have a severe impact on my health but you have to understand where we're coming from. We are tired, we are drained, we don't have it in us like other infertile couples to keep repeating IVF after IVF. Not only do we not have the money, we don't have what it takes to maintain the drive we have right at this very moment."
He looked at me intently, nodding his head as he listened to my reasoning.
"You know what we went through with our last IVF," I continued. "I'm finally at a place where I'm excited, even joyous. I cannot go back to that dark, ugly place where I was a few months ago. I know I won't survive it, I'm not that strong. We can handle however many babies we are blessed with from this cycle but what we cannot handle, Dr Sher, is another failure."
After a long, thoughtful pause, he responded, "I completely understand where you're coming from but you also have to know that I'm not comfortable with transferring more than 2. So, I'll tell you what...I'll agree to transfer 3 if you'll agree to sign a waiver releasing the clinic from liability."
He repeated again why transferring even 3 embryos made him nervous and mentioned...again...the serious ramifications of a triplet pregnancy both for me and the babies.
Suddenly, I felt my first pang of fear.
"Uh, you keep saying you're nervous which is making me nervous," I admitted.
"Do you need some privacy to discuss this? I'm happy to give you a few minutes if you need it," he suggested.
Tim and I declined to discuss it further but wanted to talk percentages. Dr. Sher broke it down for us, like this: 80% chance of a pregnancy occuring (resulting in a singleton), 70% chance of twins and 20% chance of triplets.
"Oh, only a 20% chance of triplets? That's not a big deal," I exclaimed.
Dr. Sher stared at me as if I had lost my mind. "20% in any IVF cycle IS a big deal," he said.
Ultimately, we signed the medical waiver and he transferred the 3 embryos we wanted.
And then it was on the drive back to our hotel where I had that "oh shit" moment. Tim and I were both quiet the entire time until we got to our room and I said, "Are you thinking what I'm thinking?" and he silently nodded his head.
Then we spent the rest of the day trying to convince ourselves that God wouldn't give us more than we could handle. Or would he?
We were blessed with twins, much to our relief. Even then, throughout the pregnancy, I found myself wondering about that 3rd embryo and what might have been, knowing that having triplets probably would've been an extreme hardship for Tim and me.
We would've survived it but it wasn't until then that I could see how desperate I had become in my quest to become a mother. When you're infertile, you will walk the ends of the earth to become a mother...making decisions that later you'll realize might have been irresponsible and even dangerous.
It's at times like this when the heart is leading where the mind doesn't want to go.